Sep
14
Like any other stationery item or anything in general, painting colors also consist of many variants. Acrylic is the most commonly used variant, which is cost-effective and easy to use and so is loved by artists and suitable ideas for beginners.
Acrylic is a substance made up of plasticizers, stabilizers, metal soaps, defoamers, and silicone oils; its pigment is suspended in acrylic polymer emulsion. It can be used for various purposes.
Pleasant Plastic is one of the famous Acrylic Company in Dubai, manufactures wide variety of acrylic products. Acrylic Paint is water-based or water-soluble. A substance that is quick-drying but becomes water-resistant after drying. Some good-quality acrylic paints are also light and heat resistant after they're dry.
A few of the properties of acrylic paint are that it dries too fast, is easy to use on all types of substances like walls, glass surfaces, acrylic surfaces, acrylics on wood, metal, ceramics, fabric, or paper canvas. It's non-toxic, pigmented, and easy to use. Its versatile nature makes it every artist's first choice. No matter where you derive inspiration from to get started on the abstract nature of painting, art is something that conquers everyone's heart. It unites different people from various walks of life.
Top acrylic painting ideas for beginners
As a beginner, one needs to have some basic supplies and simple techniques to get abstract painting ideas, which are as follows:
1. Acrylic Colors
This is the first thing that comes to mind when we think of getting started in painting. However, there are a lot of parameters on how to select the right colors for beginners. To clear the air, here's the way out. So, most brands have two variants: Student's color for beginner artists and Artist's quality color. Both of them differ in quality and price. If you are on a tight budget, then go for student colors, while if you can afford to splurge a little more, you can pick an artist's color. You can also buy 2-3 colors from both the variants to test out for yourself and decide which one you like to invest further. The two pigments also vary; one artist is intensely pigmented while the other is less pigmented. Colors are available in tubes, jars, or bottles. While we talk about the size, it ranges from 20z to 32z & it's advised to go for smaller sizes as a beginner because a 20z tube goes a long way.
2. Paint Brushes
While selecting from an array of brushes, choose those that bounce back when bent for confident brush strokes. Considering the cost factor, it's likely that the cheaper ones will have a fall out of bristles while better quality will do the job. You need a round brush for backgrounds, flat brush ones for simple shape, a pointed brush for precision, a fan brush to blend colors, and a splatter brush for other detailing.
3. Palette
The paint palette should be selected in criteria wherein it's flat and large enough for basic color mixing and easy to clean after usage. An acrylic material palette is long-lasting, and buying it will be an investment as it doesn't scrape. For beginner painters, any cost-effective palette would work with the mentioned requirements. There are specialized palettes for advanced artists who don't let the paint dry out quickly (which reduces the wastage) and work for longer hours.
4. Painting on Canvas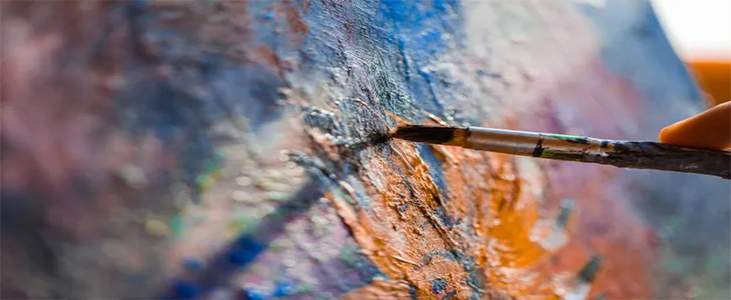 Any stationery shop would provide a cotton canvas pre-primed with the best gesso, to begin with, while you can also consider buying primer oil to re-prime the canvas for extra satisfaction in your painting. Just make sure it's thick enough to hold and absorb the paint and create tension on all the edges of the canvas so that it's easy to paint. An absorbent paper, acrylic paper, or abrasive paper is all for paper towels Alternatively a few options on the list. If you have a budget, go for an acrylic panels (acrylic plastic) to hold your canvas.
5. Paper Towels
This is used for wiping the brushes in between as you wash them. But there are techniques created by artists with which you can create designs with a paper towel.
6. Masking Tape
It's the tape that you cover all the edges of the canvas before painting and remove it later to get that perfect face of your painting.
7. A bowl of water
Well, this probably doesn't need any explanation as its use is quite apparent. Any paint would require some water to dilute the paint, mix two colors, and finally clean the brush to switch colors.
8. Varnish
It's applied after your painting is complete and has dried out. A transparent fixer that gives a glossy finish to your painting is a varnish. It also prevents the yellowing of the painting even after years.
While you can enroll in some online classes, watch a YouTube video, or move your fingers freehand to paint your heart out. After acquiring all the equipment, you need to get some tips and tricks to do it. So, let's get to know a few of them to make your artwork even more appealing and your beginning at the top of its game.
★ Use Acrylic paint
As mentioned above, it's suggested to use acrylic paints for beginners on canvas as its drying time is less, so you don't have to wait for hours. You can use it on various surfaces, whatever feels comfortable; make an acrylic display for your home decor. Nowadays, the beauty of acrylic painting and design is quite famous in the customized gifting industry.
★ Buy basic colors
Don't go on hoarding at the beginning, or you'll end up stocking up new colors. Buy a few basic paint colors at the beginning like black, white, red, yellow, blue, and green. Mix these to form any other color you want to paint with. As in the beginning, you'll have to begin with basic shapes to create a stunning piece of art that motivates you to do further.
★ Dilute it with water
Mixing is the key; paint with water to acquire the perfect consistency, or with another color blend well, it turns out great acrylics on canvas.
★ Buy the least of equipment
Don't be a hoarder; buy the minor things like basic acrylic paints, flat brush, splatter brush, palette, etc., and see whether this art form interests you. Investing a lot of money in a wide range of products without much knowledge is not the right approach. Anytime in the future, you can see how it goes and invest further as required in heavy body paints, soft body acrylic paint, and so on.
★ Clean your brushes and palette
Cleaning brushes and the color palette is essential because acrylic is impossible to remove after dried out on any surface. After you're done with painting, make sure to clean the brushes and palette with acrylic cleaning supplies or mild soap and water. Then place the dry brush and palette in a safe corner.
★ Storing your equipment
Place your acrylic brushes clean horizontally when wet while bristles upwards when dry in an acrylic box for a longer-lasting effect. Let everything be clean and dry when you place it in its place. Everything is available in art supply stores with beginners in mind.
★ Use alternatives for cost-cutting
As a beginner, you might be in splits whether you'll like the painting process and how long you'll continue doing it. So, monetarily it's impractical to invest a lot at the initial stage. At the same time, it's necessary to have all the equipment to compromise on your artwork. What can be done to minimize costs is using alternatives that work but are available at your home already. Like old pieces of cloth can be used
alternatively, for paper towels, your old debit/credit cards/plastic knives can be altered with a palette knife.
★ Don't compare
The worst thing you can ever do is compare your artwork with others. Always remember everyone has a unique vision and has different capabilities, what you may be able to do quickly, someone else cannot get a grip of it and vice versa. The only rule is to keep learning consistently and get better with time.
★ Take one step at a time
Now, when you come across different artworks after you've begun, you'll be tempted to try out various painting techniques. But, going step by step and improvising one thing at a time is the way to approach painting. Various painting tutorials for beginners come in handy and portray simple tutorials with ideas for beginners. A step-by-step video makes it easier to catch up with.
★ Make Mistakes
It's ok to make mistakes; take it as a learning process and progress with every mistake. You can correct it by priming gesso on it to make it clear or with the help of cotton swabs as well.
★ Make notes
Make sure to leave a tiny note behind/concerning every painting from the beginning to have a glance in the future as to how far you've come progressing with the skill. Mention the date on each painting, sign it to have that owning feeling like a true artist, and believe in your art. Now that you're all set, to begin with, your first painting, it might not seem very clear to choose to make it remarkable. Here are a few awesome painting ideas that you can go for to make your art look outstanding with basic designs and basic paint colors that are suitable for beginners:
★ Floral Painting
You can never go wrong with flowers, be it presenting them to someone or painting them on a blank canvas. Try out painting an abstract flower or a bunch of it placed in a vase, and there is no precision required, so it's a beginner-friendly topic for a floral painting. A mini canvas is good enough to begin with.
★ Landscape painting
There is variation in landscapes, and you can paint it as a novice or an expert. Choose a picture that doesn't require much precision and go freehand along with little techniques. A colorful background or any single background color can be considered to make beautiful acrylic painting designs.
★ Abstract Painting
Abstract style is easiest to start, as it needs a vision in mind but no particular design. Play with colors and make use of a huge variety of things around to paint other than brushes. Abstract flower painting turns out pretty amazing as a floral painting. For more ideas, watching an abstract flower painting tutorial/ acrylic painting techniques is suggested. Abstract-type paintings are fun to do. Abstract gold leaf acrylic is one of the most loved and beautiful canvas artworks.
★ Color block design
Geometrical designs are one of the most beginner-friendly and basic painting designs as all you need is a geometrical shape, 3D shape, a beautiful forest scene, beautiful ocean scene, etc. stick the masking tape on the edges, paint with the available colors (mix n match) and remove the tape. Voila!! Your beautiful color block/ geometrical shape is ready, and you got a fantastic beginner painting.
★ Tree painting
Many trees add a lot of greenery to the canvas paintings, which can always appeal to the eyes and easily be painted. A beautiful field, beach painting, animal painting, etc., are a few painting ideas perfect for beginners that are subjective to the skill levels.
★ Sunset
This one needs great blending techniques, but a quick trial can be created wonderfully—a great way to get a grip on beautiful painting with acrylics without going wrong.
★ Waterfall
Nature paintings, in general, are easy to begin with as there is no specific skill required, unlike in portraits, so that a waterfall can add to your beginner's list of paintings.
★ Silhouette
This can be an absolute favorite as the background is simple and classy; just a single color or blend of colors makes the background a substance or person black. It is suitable when you've got 2-3 primary colors in hand. But if you wish to buy, there are acrylic painting sets also available.
These are the basic requirements of simple acrylic painting for beginners, with a list of simple painting ideas, tricks, and tips, paint to make it more appealing. As you get a grip of it, you can move on to making advanced paintings later on.
FAQ's
How do you start painting with no experience?
Ans: It's better to watch step-by-step tutorials on the internet in your spare time to get a basic idea and start with easy painting ideas like flowers, abstract, etc., to get amazing painting ideas in real-time.
Can you start simple acrylic painting at any age?
Ans: Of course, studies have shown that you learn fast at a young age, but that doesn't mean you can't do it later. Just get a canvas with acrylic paints, a few brushes, and you're good to go. All you need to learn is motivation and consistency. 30-minutes of painting every day is good enough. Make sure you watch an acrylic painting tutorial beforehand or try acrylic pour painting for that blemish-free smooth finish.
What if one has a small budget to begin?
Ans: Budget is not an issue. You can buy cheap products that will give less pigment initially, but there is always room for adding new expensive products as you move ahead.