5 Best Tips to Remove Scratches From Acrylic Sheet or Plexiglass
How to Remove Scratches From Acrylic or Plexiglass
Acrylic or Plexiglass is a kind of plastic commonly utilized for manufacturing a variety of products including acrylic furniture, acrylic display stands, acrylic panel, acrylic sheets, acrylic box, etc. Acrylic products are highly in demand due to their great durability and shiny texture. 
Every Acrylic Company in Dubai has witnessed an upsurge in the requirements for acrylic-based products. You can see the applications of acrylic in windshields and motorcycle screens, water sports where there are acrylic windows for boats. Acrylic roofing sheets are also trending due to the extreme guarantee of stability they offer. Acrylic fabricators in Dubai are highly engaged in introducing high-quality acrylic fabrication services to the customers. Many acrylic companies are also into acrylic laser cutting, and acrylic bending and molding, which has gained traction for laser-cut acrylic products.
While acrylic exhibits amazing many properties that ousts glass, it is a more scratch sensitive material. But remember, these scratches can be easily cured. With appropriate maintenance measures, you can quickly remove scratches from plexiglass, so that it remains amazing for a long time.
Let's take a sneak peek at the ways by which you can remove scratches from acrylic products and how to maintain the plexiglass against getting prone to damages.
Is it easy to remove scratches from Acrylic?
This is one of the most asked questions people ask while handling with Plexiglass or when curious about maintaining the acrylic after purchasing them. Removing the scratches from Plexiglass depends upon the extent of damage that had impacted it, however in most circumstances, these scratches can be removed in a short period.
The initial thing to be checked is whether the material you wish to repair is exactly acrylic or not. Acrylic material is amazingly versatile and used in many products like acrylic fish tanks, acrylic frames, acrylic table tops, furniture, acrylic mirror sheets, etc. If the scratched plastic appears clear, then it is mostly polycarbonate or acrylic that is widely used as acrylic plastics.
Things to note while handling the acrylic scratches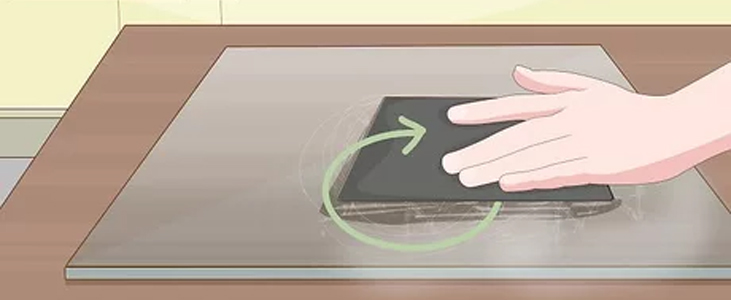 Keep in mind that if the scratches occur in acrylic, it is easier to clear them out, while it is not that successful to completely bring back the damaged polycarbonate sheet. You can easily go for buffing the lighter scratches than the deeper and harder ones.
However, if you find the scratches more than  5mm deep, then it is better to stay away from trying to buff it out, which is impossible. Also, if the scratches appear to be of more than 30-50% of surface area, or if the acrylic is old, then the cost you spend on replacing the acrylic will be something more than you imagine. 
Tips to clean Plexiglass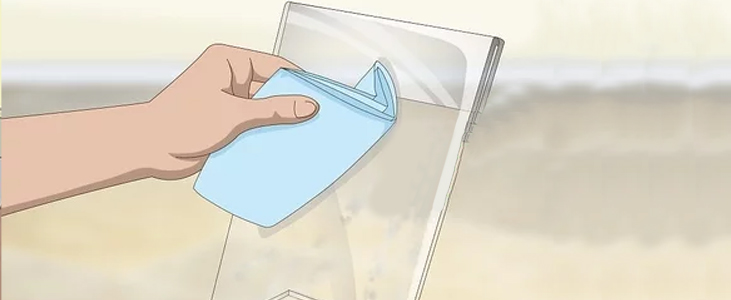 It is advised to begin by cleaning or polishing the surface of acrylic plastic. You can do this with the help of lukewarm water and soap, such as green soap, along with a light and a soft microfiber cloth; or simply use an acrylic cleaner. Dirt that remains can introduce new scratches, about which you should be very careful.
Avoid using detergents such as glass cleaners like Glassex, or methylated spirits, since they don't dissolve thick dirt particles like dust or sand. Make sure that you rinse the cloth regularly to drain excess water and don't use any chemical cleaning agents including acetone, benzene, or thinner. These should be taken care of because they can soften the acrylic surface and make an undesirable haze on them.
Determine the Depth of Scratches on Acrylic
If there are some deeper scratches in the acrylic, this needs to be checked initially. You can find this by simply crossing the scratches using your nail. In case the nail doesn't stick with the scratch, then you can begin polishing the acrylic.
Polish and clarify the Plexiglass
Firstly, pick a dot of the plexiglass polishing paste and place it on the acrylic surface to start polishing. You can do this either with a cloth disc or your hand. Monitor the result frequently and avoid polishing for a long time using the polishing machine or polishing cloth at the same place. Wipe the part with a neat damp cloth and ensure it remains glossy. If the acrylic scratch remains, you can apply the acrylic scratch removers to remove the scratches completely.
Re polish and maintain the Plexiglass
In case the plexiglass has a good shine, you can also polish it with the scratch remover as discussed above. With the fine scratch remover, you can polish the acrylic surface and give it a vibrant shine with an added layer of protection.
Caution: Never clean the acrylic panes of the plexiglass surface using a scouring sponge material!
Methods to manage light and deep acrylic scratches
If the scratches are light:
To avoid light and moderate scratches, you can use a plastic or acrylic polish, 800 grit sandpaper, 1200 grit sandpaper, along the water for soaking the sandpaper.
You can start with wet sandpaper (800 grit), and use it to run over the scratched area in a continuous circular motion with light pressure. Follow the same sweeping motions by using a dry piece of grit sandpaper. You can repeat this procedure for about three minutes using dry and wet sandpapers.
Don't be shocked to see the acrylic brisker and appear to have more scratches than before, it is a result of the process. After this, move the 1200 grit sandpaper for the same process and continue till all the light scratches vanish. Use a neat cotton cloth to dry the area and use an acrylic polish to make the area glossy. As a result, the acrylic becomes new and clear, with no visible spots or scratches.
If the scratches are deep:
The deeper scratches are hard to remove, hence requiring high effort but be calm, this doesn't put an end to seeing them bright and vibrant. As discussed above, when you run over the scratches with the nail, if this time it sticks to your nail, then the scratch is deep and you can work to remove it.
The processes remain similar for deep scratch, but you would now require 600 grit sandpaper for the procedure. Wet a piece of sandpaper and run over the scratch-prone surface in a circular motion over three minutes. Continue alternating with the dry sandpaper too. Follow this with an 800 grit paper for more minutes and finally end this with a 1200 paper till the scratches are gone. Finish by cleaning the area with a good clean cloth and finally use acrylic polish to restore the glossy shine.
You can also renovate the brighter shine of acrylic by flame polishing method to polish the thin sheets (less than 4mm thickness) and then using the buffing method for the acrylic sheets. 
Wrap-Up
The acrylic or plexiglass needs to be handled with good care while managing the scratches. You can also try with products like variable-speed rotary polisher or heat gun to soften the acrylic, wool buffing pad, foam buffing pad to neatly buff the material, and even a Super duty rubbing compound for a flawless shine. If you take care of acrylic, and maintain it with proper polishing, acrylic painting & designing, and manage to keep it least prone to scratches, acrylic remains beautiful for many years.
1. How do you get deep scratches out of plastic?
Older acrylic and regular use of normal cloth or chemical cleaning agents can contribute to deeper scratches. If the products fall often or are not maintained with the acrylic cleaning materials, then deep scratches can occur. Acrylic polish can be the best option to get rid of acrylic scratches. You can also manage them with acrylic paint to keep them shining and durable.
2. Can acrylic be polished?
Acrylic can be polished using grit sandpapers, and the flame polishing method. There are also various acrylic polishing materials available to clean the acrylic. You can use the hand or machine sanding method to polish the acrylic. Additionally, the coarse grit can be used to blemish and using finer grit to complete the polishing process.
3. What is the best way to clean acrylic?
You can clean Acrylic with chemical and coarse sandpaper. Soapy water and non-abrasive cleaners can be ideal options to clean plexiglass windows. Always ensure you use a thin cotton microfiber cloth to clean the acrylic surface. Avoid harsh chemicals and ammonia-based products to clean the plexiglass.
 
4. How do acrylic and plexiglass differ?
Acrylic sheeting, Plexiglas, and plexiglass have different characteristics, but they are more alike than different. There are some similarities between plexiglass and acrylic products called plexiglass. It is usually only the manufacturing process that differs between the two products. The most common methods of manufacturing acrylic sheeting are extrusion or cell casting. In order to manufacture extruded acrylic, a process of extrusion is used. Sheets of acrylic are created by continuously extruding acrylic.
Unreacted acrylic is poured between two panes of glass to create a cell, while in the cell cast process the acrylic is poured between two panes of glass. Once the acrylic has cured and the reaction is complete, glass sheets are separated from acrylic sheets. Acrylic poured from cells tends to be more expensive than acrylic cast from cells, but it has a longer lifespan and higher quality. The cell cast process is the only method used to manufacture Plexiglass products. Plexiglas products cost more not only because of their brand name, but also because of their quality. You're usually paying more for a product that's more tailored to your specific needs, as well as a more substantial manufacturing process.

5. Is acrylic and Plexiglas easily bendable or reshapable?
Avoid this at all costs. It is essential to heat acrylic and Plexiglas before molding to prevent them from cracking and breaking. At certain temperatures, it is flammable and should not be heated by open flame, and it may adhere to the heating device itself if heated otherwise. Heat and reshape acrylic items should only be attempted by professionals equipped with the correct tools and safety equipment. 

6. Can acrylic be cleaned in any way?
To keep acrylic looking new, it only requires regular wipe-cleaning. Avoid using chemicals and causing scratches by taking care not to use chemicals.
7. Is acrylic easy to scratch?
In some cases, acrylic can be polished out of scratches, unlike glass, which needs to be replaced when badly scratched. Although official scratches can be removed with official scratch removers, glass still remains the preferred option when comparing longevity and resistance to
8. How can I remove scratches from acrylic and Plexiglas ?
Depending on the severity of the scratch, you can use Novus2 or Novus3 cleaner, which will help you remove scratches on acrylic and Plexiglas (such as scratches you can easily see or feel when you pass your fingernail over them).
Share