Complete Guide to Acrylic UV Printing, Uses, Benefits And Industry Leaders
The Acrylic UV printing is one of the most essential design materials. The reason why acrylic UV printing is one of the most practiced advertising materials in luminous surroundings is because of its escalated quality and transparency of acrylic.
Acrylic material is often used in signs and is fashioned in the hands of craftsmen and showcased to you in their latest artistic form. In the case of digital printing, as the acrylic is commonly coated on the material, the light transmittance of the material – depending on the quality of the foil – doesn't fulfil a good output in digital printing qualities.
Acrylic is commercially loved because of its visual attraction, it looks glassy and is much more durable and it is very simple to fabricate to customized sizes and shapes. Using acrylic for advertising signs can instantly ameliorate the appearance of a business or product to help it to be high lightened and add perceived value. Moreover, an attractive or costly sign will make the brand or the product pop up magnificent and of higher quality.
The flatbed acrylic UV printing services in Dubai offer high-quality, flexible printing onto unevenly shaped, hard products like carpets, acrylic glass, wood metals and so on. Also, custom acrylic UV printing, flat metal printing, glass printing, laminate printing, leather printing, marble printing, textured printing, and tile printing are also possible.
Backlit UV Printing on Acrylic
It's not difficult to get attractive acrylic glass which is suitable for lighting with special printing modes on transparent, white, or ice-white acrylic. Because of the printing modes, you can have attractive colors without any fading of colors even when LED lighting is used. Acrylic UV printing in UAE is the most broadly used advertising material accessible on the market and you can have excellent and attractive logos or images on illuminated signs. Logo UV printing is also high in demand
Vacuumable Acrylic Printing
There are acrylic printings, which are in flat form. After acrylic printing, it can be given many forms by vacuum molds. The elasticity of its ink is not so huge. Because of this, the process cannot be executed on classical prints available on the market. It is better to produce acrylic printing suitable for vacuuming.
UV Digital Flatbed printing on Acrylic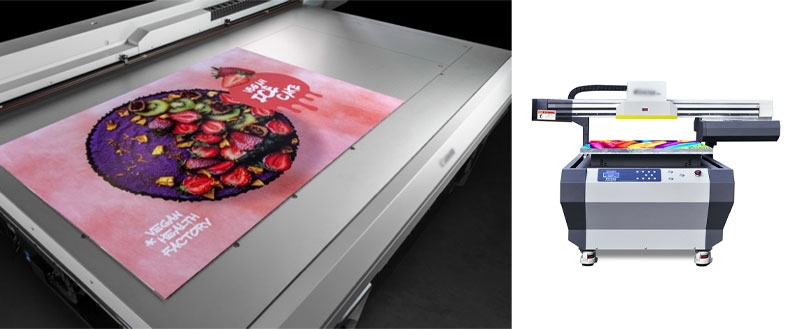 Digital Printing is a procedure of inkjet printing in which microscopic ink droplets come out of a nozzle in an exact position and are then grounded on acrylic plastic. The advantage of UV ink is that it will dry immediately when exposed to UV light and it will not create any harmful VOC emissions. Digital printing is the favored printing mode for the printing process of CMYK images on acrylic. The digital flatbed printing method is patterned to print directly onto the plastic surface.
Steps to print on acrylic sheets with a UV LED flatbed printer:
Step 1: Complete the image design on your PC. You can free your imagination and it will be attained soon
Step 2: Swap the format of the image with RIP software.
Step 3: Make ready the acrylic sheet which is being printed. It is good to clean the acrylic surface with alcohol, it will clean the surface and remove static electricity. There is no need for UV coating.
Step 4: Place the acrylic sheets on the table of the printer.
Step 5: Make ready the printer, which includes media thickness measurement, print location origin, output colour and so on.
Step 6: Begin the acrylic UV printing. To achieve a more durable and transparent effect, we often print a layer of varnish on the print surface at the end. The acrylic sheet can be taken out and used once it is finished.
UV flatbed printer is widely famous for simple operation and workflow. It has been widely used in various industries due to its strong compatibility, in addition to digital printing on acrylic sheets. Applying LED-UV lamp curing technology, a UV LED flatbed printer is even suitable for heat-sensitive materials such as electronic components and circuit boards.
UV flatbed Capabilities
Large Format Graphics
Up to 2500 mm x 1300 mm and 50 mm thick.
Able to exist or occur together without problems with both rigid and flexible materials, including, Acrylic, ABS, Aluminium, Foam board, and Glass. UV printing on wood or MDF is included.
Dual Surface Printing
Printing on both sides of a transparent material.
Gives the image depth & added gloss.
The added durability of graphics.
Double Layer Printing with White Ink
Layers of white ink down the color ink.
Increases the briskness of graphics.
Suitable for transparent materials.
Clear Ink
Huge gloss.
Capable to add texture with clear ink when added to selected areas of the print.
High Format Spot varnish.
UV Screen printing on Acrylic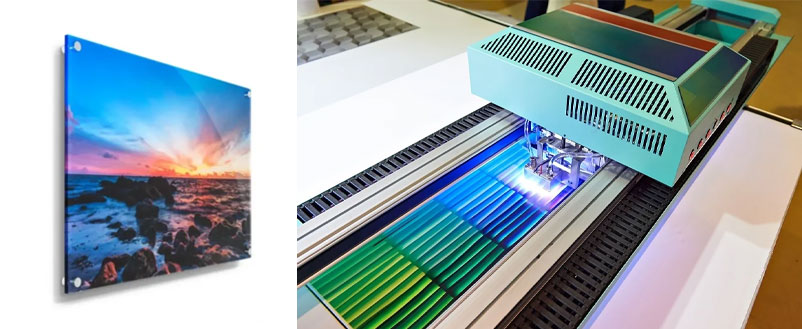 This technology is commonly used for large projects or for a particular spot color requirement. This method is different and provides slightly different results.
The method of screen printing with UV ink is a procedure in which ink pushes through a mesh screen and onto an acrylic sheet. When it is exposed to UV light, the ink will be bonded, dried, and hardened.
Projects that have Pantone PMS colors, special effects, white, clear, unique characteristics, or are simply a large volume run are commonly best screen printed. When it comes to volume, digital printing is slower than screen printing, there is no comparison to the resolution quality of CMYK process images and the price savings when printing on small to medium projects.
Photos on Acrylic
Photo printing on acrylic looks outstanding for various reasons. Most importantly, the gentle sheen or soft glow of the acrylic gives colors shine. Then, when we print under the acrylic, it gives an amazing and attractive 3D effect. This endorsed you to immaculate your frame without fear of damaging the print. This method of acrylic UV printing is reserved for art galleries. In today's market, prices have become more reasonable, and this type of frame is becoming more and more common and familiar in residential decoration.
Advantages of Acrylic UV flatbed printers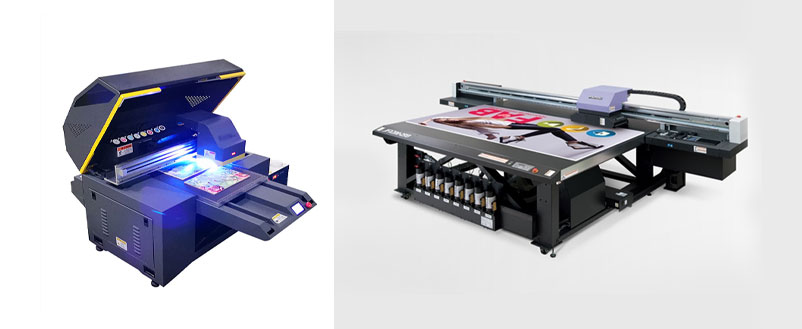 1. Use secondary ink cartridges to blend and filter the ink again to make sure the stability of the inkjet pressure of the acrylic flatbed printer and the smooth ink ejection.
2. There are anti-collision on both sides to save the UV lamp and print head of the Acrylic UV flatbed printer from damage.
  3. The silver silent double guide rail is embraced, which is resistant to scraping, low noise and long precision.
  4. The voltage of each part is controlled in sections and make sure that the voltage of each part of the acrylic UV flatbed printer is normal, and to avoid burning the circuit;
  5. When the liquid level of the ink cartridge is below one-third, the ink cartridge will automatically lighten and alarm, so that the printing is unbroken, and the production is smoother.
Conclusion
UV Printing is comparatively a young method, but it's fast-growing. Staying with a new-fangled developing tech is key. You can predict and surpass your customer's needs and expectations with a UV printer. But it is important to have thorough research into which brand and model is suitable for you. Pleasant Plastic is a better option when you search for Cheaper UV printing near me
Acrylic products are designed, engineered, machined and manufactured by Pleasant Plastic. With our experience in acrylic engraving/engraving in Dubai, acrylic painting and designing in Dubai and acrylic laser cutting in Dubai, we are the best acrylic product designer in Dubai, United Arab Emirates. We are efficient in our work not only do we pride ourselves on delivering orders on time, but Pleasant Plastic is also renowned in Dubai for acrylic bending and molding, as you can see from our photos. Please contact us for more information.
FAQ
How long did the acrylic UV print last?
Acrylic UV prints are waterproof and can last for a lifetime when handled with care.
How to protect UV print?
The best method to protect UV print from color fading is to buy suitable ink and make good post-processing.
What is the purpose of UV print?
UV digital printing accelerates the print production process by immediately restoring specially formulated UV inks on a wide range of materials using UV lamps.
How thick are acrylic prints?
Most of the companies provide an acrylic print in thickness of 1/8", ¼" or both. 1/8" acrylic provides a vibrant appearance at an affordable price.
Share